Who doesn't like to rock a cool wig every once in a while? There is only so much you can do with your natural hair, so a wig really comes in handy from time to time.
Now, the thing about wigs is – they almost always come with a middle part, whether it's a deep wave wig or a straight hair wig. Well, the hell with that same old monotonous look. Let's learn how to style yours like a pro.
Wash And Condition It
Washing and conditioning your wig is paramount if you want to keep it pristine for a long time. 
Start by washing your wig in cold water until it's fully soaked. Then, add shampoo, preferably the one without any sulphates. Curly hair is generally dry and tangles easy, so don't make matters worse by using shampoo with sulphates. Really work your shampoo in, right down to the lace, to get that product build-up out. Once you're done shampooing – rinse it out with cold water.
After you're done washing – apply conditioner. Our personal favourite would be any conditioner that's vegan, sulphate and paraben-free and can double as a leave-in or deep conditioner. If you're deep conditioning your deep wave wig, make sure you keep it in a plastic bag for at least twenty minutes. That should allow the strands to absorb all the moisture and necessary nutrients. Once you're done – thoroughly rinse it out with cold water. If you're using a leave-in conditioner, you can just give it a little splash, leaving some of the product in.
Once you're all done washing and conditioning – apply a styling product of your choosing. We prefer curl enchantment creams, as they give the best definition and volume to the curves, but you can even use natural oils like shea butter or coconut oil.
After all that, leave your wig to air dry for a couple of hours, and you'll be ready to start styling.
Switch The Part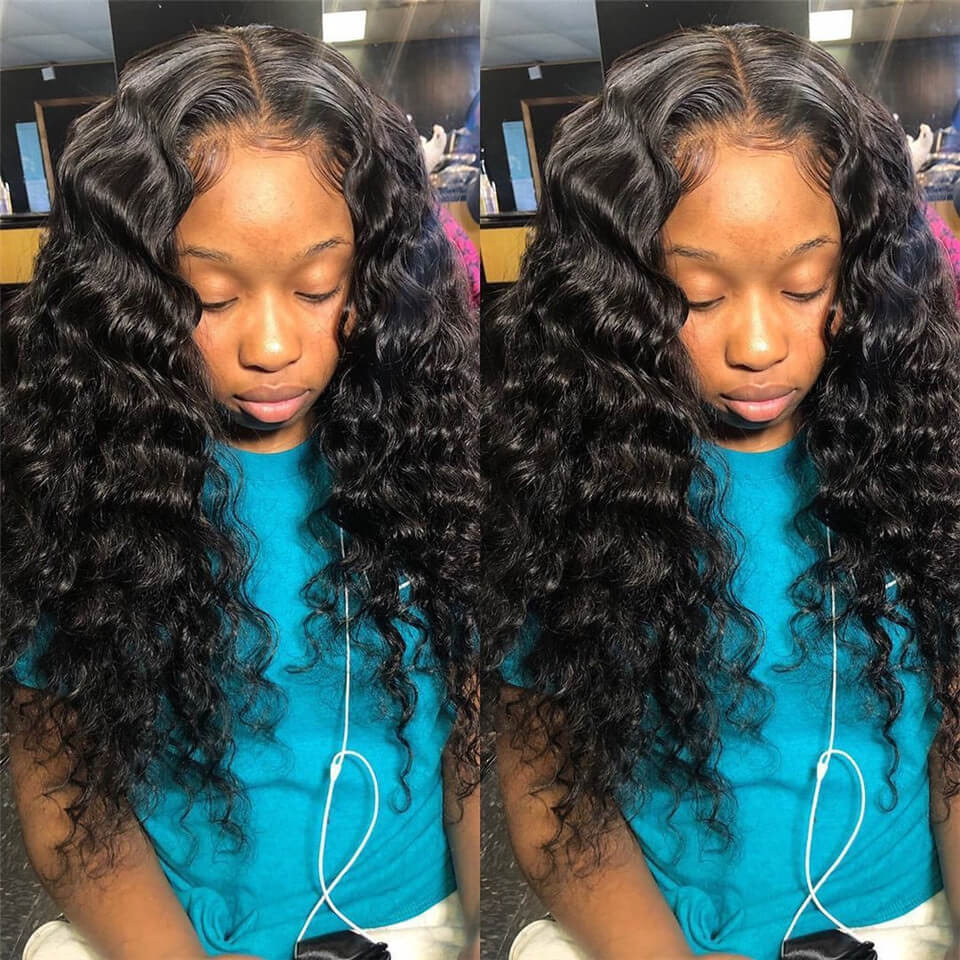 If you want to be able to do whatever you please with your deep wave wig, make sure to get a full lace wig. Half-lace wigs won't give you that much freedom when it comes to styling options, especially when it comes to parting your hair.
One of our favourite styles is switching the part from the middle to the side. It is a simple and easy style, but it gives your hair so much more volume and personality. And, if you love the look for some curls falling over your eye – all the better. This shouldn't take more than a few minutes of your time, so it's a look that everyone can try out.
Half Up – Half Down
Another one of our favourites has to be the half up – half down style. This is one of the most natural styles you can apply to your wig, and when done properly – no one will be able to tell that you're wearing a wig in the first place.
Just put your deep wave wig on, conceal the lace with some baby hair, and pull the topmost part of your wig up and tie it up. 
The best thing is you can experiment with it all you want. You can make a little palm tree with your curves flowing all over, or you can make a nice little bun on the top of your head. For curly wigs such as this one, we prefer the messy bun over a neat one, but to each their own.
A Bun
Not many folks choose to rock a bun when they have a wig on, mostly because it can be quite tricky to hide the lace if you pull all of your hair up. However, if you're skilled enough, you can easily blend in the lace with your hair, and if you have a lot of baby hair around the edges – you're good to go.
Just style your baby hairs in a natural way, and if the colour of the wig matches your natural hair – you can confidently rock a nice bun even if that's not your hair. Just make sure you don't make it too tight, or you might end up with some major shedding.
Another pro-tip if you decide on a bun is tying a bandana or a headband around your head. Conceal the lace with a trendy accessory and wear your bun with pride.
Double Braids
Finally, you can always braid your deep wave wig if you want to. You'll have more than enough hair to make two voluminous braids on each side, sporting a natural look. Just part your wig down the middle, and start braiding. As simple as that.
Conclusion:
There you have it. We're sure you'll be able to figure out some additional hairstyles on your own, but these were our go-to styles for a nice, voluptuous deep wave wig.