Are you looking for a way to update your kitchen and add some style? Then look no further than glass splashbacks! Glass splashbacks are becoming an increasingly popular choice when it comes to modernizing kitchens. Not only do they look stunning, but they also come with a range of practical benefits that make them a great option for any home.
In this article, we'll explore three key benefits of installing glass splashbacks in your kitchen. From their durability to their easy cleaning process, you'll soon discover why having a glass splashback can be the perfect addition to any space!
Increased Aesthetic Appeal
Glass splashbacks are one of the most popular design elements for kitchens in recent years and with good reason. Their sleek aesthetic appeal makes them the perfect choice to add a touch of style and sophistication to any kitchen.
When it comes to increasing aesthetic appeal, glass splashbacks can make a huge difference – from adding subtle touches like pops of color or reflective surfaces that create an illusion of space, to bolder designs that bring your kitchen alive.
Thanks to their versatility, you can use them as part of a contemporary look or classic styling; plus they are extremely easy to clean so you won't have any worries about the mess!
Whether you're looking for something subtle and timeless or bright and eye-catching, glass splashbacks offer endless possibilities when it comes to creating an inviting atmosphere in your kitchen.
Easy to Clean and Maintain
Glass splashbacks are the perfect addition to any kitchen as they offer a sleek and modern look while also being easy to clean and maintain. With an easy wipe-down surface, glass splashbacks don't require much effort or time to keep looking their best – no more scrubbing away at grime left behind from cooking.
The smooth finish of glass means that dirt is unable to settle into its grooves as it can with other materials, making cleaning even quicker and easier.
Furthermore, in areas where splashes occur most frequently, such as around sinks or cooker hobs, special types of protective coating can be applied which makes them resistant to scratches and marks.
This ensures your kitchen maintains its stylish look without having to worry about damage over time.
Durable and Long-Lasting
Glass splashbacks have been increasing in popularity for kitchens due to their timeless and stylish appearance. However, beyond the aesthetics, glass splashbacks offer several advantages that make them an ideal choice for any kitchen.
Durable and long-lasting one of these benefits – making your kitchen look great now and for years to come. Glass splashbacks are incredibly strong and resistant to wear and tear with no warping or cracking over time, they can easily withstand heat from cookers or steam from kettles without breaking down.
This means you won't need to worry about replacing them anytime soon – which makes glass splashbacks a great investment in both money and effort!
Furthermore, cleaning is easy too since the surface doesn't absorb dirt or grease like other materials do; just use a damp cloth and some mild detergent every once in aa to keep it looking brand new.
Overall, having durable and long-lasting glass splashback installed into your kitchen ensures that not only will it look stunning but also last through even the toughest cooking sessions!
With minimal maintenance required along with its ability to stay resilient regardless of how much heat comes its way – there is a better option than this sleek material when it comes to upgrading your home interior design.
Conclusion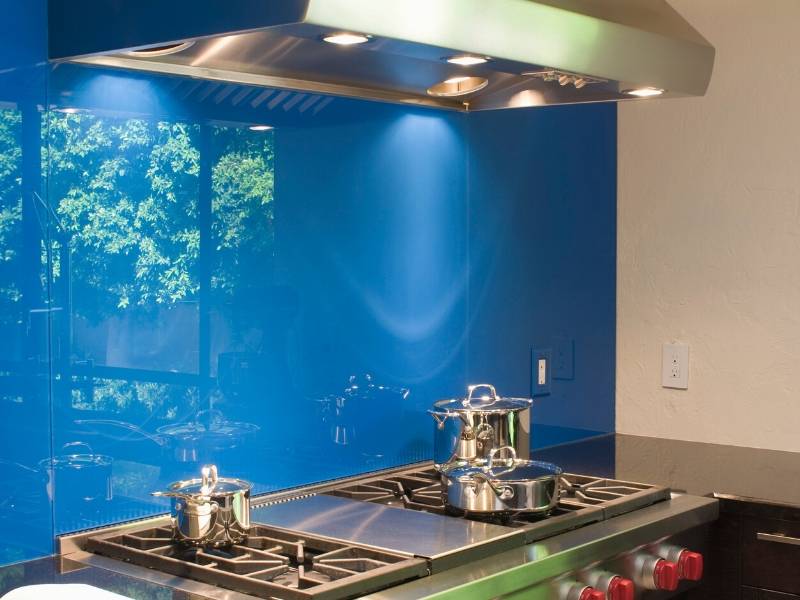 Glass splashbacks are a great way to add style and color to your kitchen. They provide an attractive, modern look that is easy to clean and maintain.
Not only will glass splashbacks make your kitchen more stylish, but they also offer many practical benefits such as protection from water damage, heat insulation, and durability.
Installing a glass splashback can help you create the perfect kitchen design while adding value to your home.
With their unique style and functional advantages, glass splashbacks are a great choice for any homeowner looking for something special in their kitchen renovation project.